---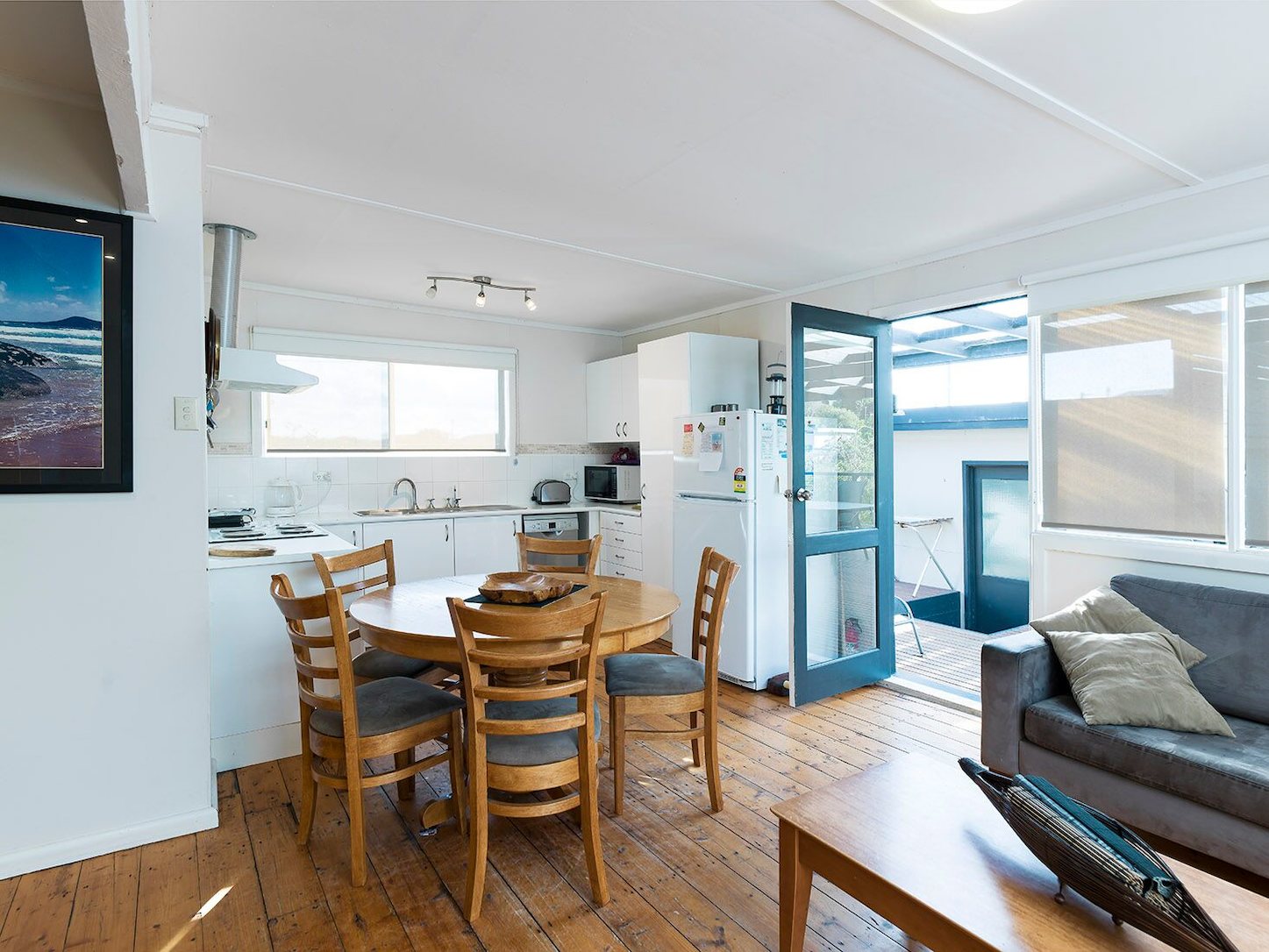 Take a look at the rich list of facilities, guest services and enjoyment notes provided by Sandy Point Holiday House.
We hope you enjoy your stay!

There are two queen-sized beds, and a single bed bunk available in the house. There is a covered doona provided for each of the beds, however, you will need to bring sheets and pillow cases.

Basic comestibles including oil, tea, coffee, sugar, as well as a range of sauces and spreads are available. Tea towels, hand towels, placemats, coasters etc are provided, please use them. All cutlery and crockery is provided, including cookware. There is an oven and cooktop available, as well as usual kitchen appliances including a sandwich toaster, and microwave. There is a dishwasher- please use detergent provided, and ensure rinse aid is topped up regularly.

TV/ DVD and stereo are all provided. There are a couple of CDs and DVDs provided for emergencies, however, we recommend you bring your own along. Heating and cooling are supplied via a split system air conditioner.

Usual amenities are supplied. Toilet paper is supplied, however, we request you ensure that there is sufficient for the next tenant, should you run out. Tissues and hand wash are supplied. Please bring along bath towels, beach towels, bath mat etc, as these are not supplied.

There is a top-loading washer and detergent supplied. There is a retractable line on the deck (wall) near the laundry. There is a second shower and toilet in the laundry.

The tap water is bore water. It is hard water, so you may need a little extra detergent. In the kitchen, there is a small extra tap that provides FRESH FILTERED TANK WATER for drinking.

A gas BBQ and gas are supplied. We ask that you keep the BBQ clean, and ensure it is ready to be used by the next person. If you run out of gas, there is a spare in the laundry. If this is also empty, please refill at local shop, and send us the receipt and we will reimburse you for the cost.

Dogs are welcome. Please ensure they are not permitted in the house. The fencing is constructed of nautical steel wiring and dog safe fence, with spacing of approximately 15cm and approximately1.2 metres high at its lowest point.This may not be sufficient to restrain small or determined dogs.

Sandflies

Please note that there are sandflies at Sandy Point. They are prevalent around Christmas and New Year, and are worse after some rain. They have a sting which causes a nasty itch. Please protect yourself with insect repellant during sandfly season.

Bins are collected on Monday mornings. There is an information sheet from council on the fridge for additional information.
You may also be interested in...